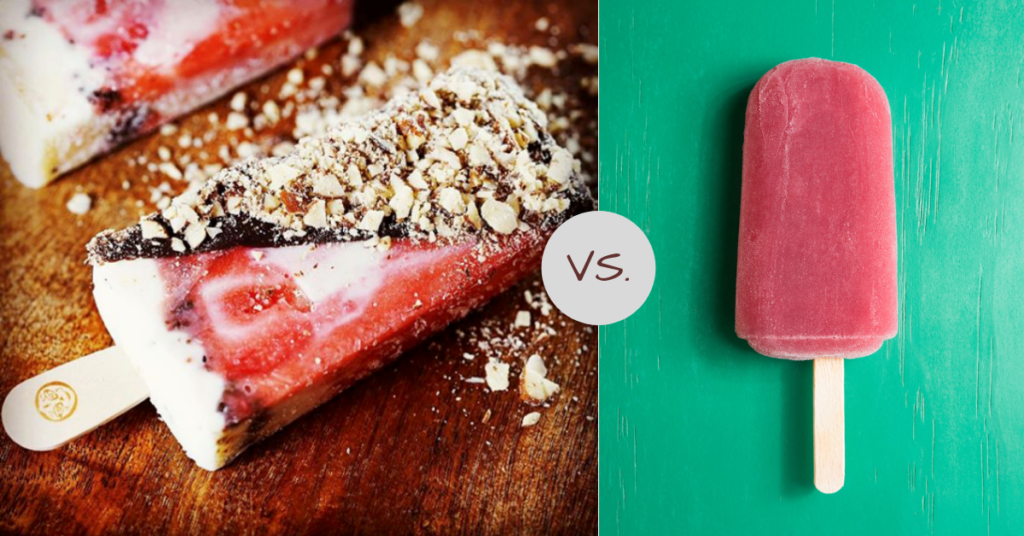 If you're like many people in the US, the idea of a popsicle probably involves bright colors, water, and artificial flavors.
While these popsicles, also called ice pops, are a summertime classic and have their nostalgic merits, there are other desserts that have just as much to offer in terms of interest, flavor, and quality. Specifically, the Mexican Paleta, which features fresh frozen fruit and sometimes real chocolate, offers a truly exciting experience.
If you're still not sure what exactly differentiates popsicles and Mexican paletas, read on.
Here are three key differences between these two frozen desserts:
Made fresh
Unlike popsicles, which are commonly manufactured in bulk and sent to grocery stores, a paleta is made with real natural ingredients such as different tropical fruits like Mango, Pineapple or Bananas. Some paletas are cream-based, similar to gelato made with chocolate, coffee or even Oreos. In both styles, fresh, natural ingredients are a staple. When you buy a fresh-made paleta from Morelia Gourmet Paletas, you know that it contains only the freshest and most authentic ingredients. We even went the extra mile, by filling some of the flavors with exotic ingredients such as condensed milk, Nutella and dulce de leche.
More flavor combinations
You may think of popsicles in terms of fun flavors like an imaginary "blue raspberry," or "strawberry lemon". Paletas, however, come in flavor options that are just as fun. A few flavor combinations include:
Dulce de Leche filled with Dulce de Leche

Maracuya (Passion Fruit) filled with Condensed Milk

Tropical Mango

Pineapple and Mint

Banana filled with Nutella

Sicilian Pistachio
And if you like real fruits, some include real fruit chunks mixed into the flavors, so when you bite the Paletas you feel you are eating the fruit on a wooden stick. At Morelia Gourmet Paletas, the Lime option and Strawberry option have the real fruit in the middle of the Paleta.
An interesting history
Finally, paletas have a long and interesting history. While some people believe that paletas originated as an icy dessert for Aztec emperors, others believe that paletas' roots can be traced to the early 1800s, when Mexico celebrated its independence from Spain and overthrew the colonizer's ice monopoly.
Ninety percent of U.S. households regularly indulge in a sweet, frozen treat. If you're hoping to mix things up and try a new dessert, try Mexican paletas.
Where can I find paletas?
Want to take this amazing treat to the next level? Head to any of Morelia Gourmet Paletas stores in South Florida and the Dominican Republic, and enjoy an epic ice cream experience, by adding dippings and toppings to the Paletas. The Pick-it, Dip-it Top-it signature enhances the Paleta flavors and takes the overall experience to the next level.